Ignite Studios. Your
Salt Lake City Recording Studio
All your studio recording needs, near downtown slc!
Just south of downtown Salt Lake City, an unassuming brick building houses the area's most innovative recording studio. With reasonable hourly rates for music recording, video production, and podcast creation, Ignite is a top area destination for recording, mixing, mastering, and post production of digital media!
Conveniently located within easy commute of the airport, and nestled right in the middle of Salt Lake's three major arteries (I-15, I-80, I-215), Ignite Studios offers a 1900 square foot soundstage, green and white cyc walls, audio recording studios, and more.
Ignite Studios Video Tour
Join studio owner Krista Kacey as she walks you through all the amenities and features that our studio space offers!
Audio recording
Video recording
Podcast production
Video production
…and much more!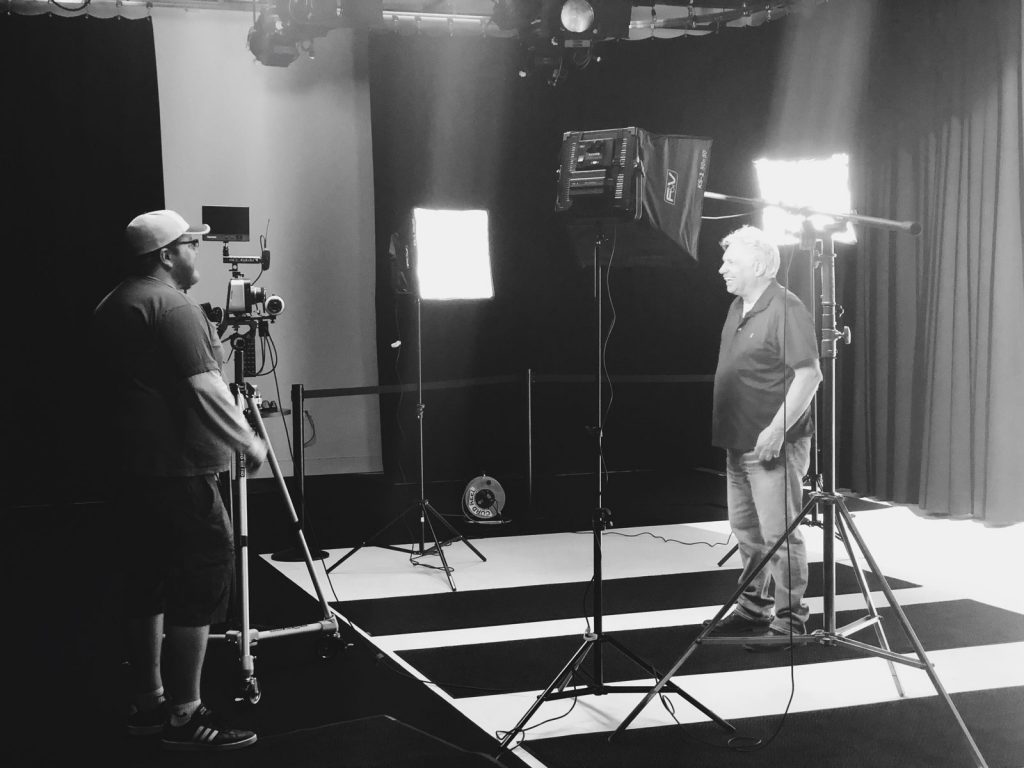 The Quietest Recording Studio in Salt Lake
Assisted by a nearly half-million-dollar renovation, our film and audio production is aided by floor-to-ceiling soundproofing panels, with accommodations made to include both A/C and set lights! 
Each room is soundproof, including our editing bays. Whether you're recording a hip hop song or a video for your YouTube channel, your audio quality will be first-class.
Robust Staging Areas for Video and Music Production
The crown jewel of our studio is a 1900 sq. ft. soundstage, with ceilings topped out at 13 feet high and cyc walls of full white and green, with scoops. Additionally, we have a 12'x50' staging and green room area. Our control rooms come equipped with a digitally converted sound panel and electric grid and are separate from our audio recording studio.
Each room in our admittedly awesome building has an integrated network, which makes collaboration and creation easier than ever. And did we mention that we can accommodate a full orchestra?
Tools: Check, Talent: Check
Now that you have an idea of our set-up, what do you want to create? Are we filming a commercial? Recording an album? Shooting your next music video or work tutorial?
Whatever your imagination can conjure, we can make it happen. If you need a sound engineer to help with mixing audio, we've got you covered. Ditto with video engineers, camera crew, or whatever other specialists you need. If you want to handle all the production and editing yourself, go for it. Regardless, our space is your canvas.
To the unsuspecting passersby, Ignite Studios is just another building around the corner from the haunted house (oh yeah, our neighbors are a haunted house). But to the movers and shakers in the media production industry, we are Utah's best-kept secret; like dinosaur bones in the backyard. We've got your back! 
What are People Saying About Us?
★ ★ ★ ★ ★
This place is phenomenal!!! The sound is absolutely incredible. It's utterly silent! Perfect for recording anything! Videos, podcasts, anything! Full suite studio! This place is beautiful! Come check it out, you won't be disappointed!
Gina Bacalski
I can't believe this hidden gem! I have been to this studio for marketing workshops as well as a wedding. Talk about high tech, this studio is impressively designed to satisfy just about any project. Krista is absolutely amazing as well!
Brett C
Ignite Studios is one of the best recording studios I've been to in the US. The location is extremely accessible. The quality of the equipment and rooms is top notch.
Jon Kovach Jr.
This is an amazing studio! It's like walking into another demension and has state of the art production equipment. Super clean and a relaxing environment. Everyone should come here for any production needs!! The owner is amazing and is so easy to work with!
Garrett Nichols
This is an amazing studio. They do it all here! Coming from an experienced person in the industry. This is the place to be in SLC. VERY professional and the talent in here is amazing. Tobi and Joe know there way around the sound waves. ??
Ryan Stevens