A Simple Science
In the world of theatre, still backdrops and non-interactive sets play second fiddle to the live performers on stage. High-level entertainment can still be consistently delivered despite what is going on in the background.
In film, however, such things would likely yield a boring flick, especially within the science fiction and action genres. In order to provide more punch, green screens are often employed to bring added life to a motion picture— and the concept is not at all complicated. 
How it works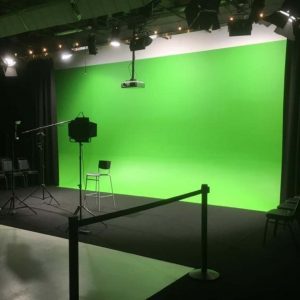 A green screen is just a large green backdrop draped in the background of a shot.
Although the name suggests its color, green screens don't have to be green. The only reason green is so common is due to the fact that bright or neon greens contrast very well with natural skin tones and most clothing.
Once a shot is captured against a green screen, special effects can be added in place of the green screen while preserving the image in front. This common post-production effect is known as CGI (computer-generated imagery) and is a common staple in nearly every modern-day action film. 
When is it used?
Green screens can be used for a variety of purposes. The most common purpose however is to enable a person or actor to interact with a dynamic environment.
Whether the individual is confronting a dinosaur as we see in Jurassic World or discussing the weather forecast on the evening news, green screens allow for imagery and effects that otherwise could not be replicated. Those who apply after effects can seamlessly add just about whatever they want to the background.
A Revered Hollywood Friend
When we think of green screens, we often think of big Hollywood film productions— and for good reason. CGI, with the help of green screens, has brought millions of viewers and billions of dollars to the box office. 
A Brief History
The first time a green screen-like effect was notably used in the film was in 1933 for the major motion picture The Invisible Man. The technique was used to make a man seem, well, invisible. 
A few years later in 1940, The Thief of Bagdad won an oscar for their use of a blue screen, providing futuristic special effects at the time. From there, the practice continued to grow in popularity as did the resulting films. 
Major Motion Pictures
According to Box Office Mojo, the top 15 grossing movies of all time are as follows: 
1 Avengers: Endgame – $2,797,800,564 – 2019
2 Avatar – $2,790,439,092 – 2009
3 Titanic – $2,471,754,307 – 1997
4 Star Wars: Episode VII – The Force Awakens – $2,068,454,310 – 2015
5 Avengers: Infinity War – $2,048,359,754 – 2018
6 Jurassic World – $1,670,516,444 – 2015
7 The Lion King – $1,657,870,986 – 2019
8 The Avengers – $1,518,815,515 – 2012
9 Furious 7 – $1,515,255,622 – 2015
10 Frozen II – $1,450,026,933 – 2019
11 Avengers: Age of Ultron – $1,402,809,540 – 2015
12 Black Panther – $1,347,597,973 – 2018
13 Harry Potter and the Deathly Hallows – Part 2 – $1,342,223,936 – 2011
14 Star Wars: Episode VIII – The Last Jedi – $1,332,698,830 – 2017
15 Jurassic World: Fallen Kingdom – $1,310,464,680 – 2018
It's no surprise that most of these films relied heavily on green screens and CGI. The movies we know and love simply wouldn't be the same without the larger-than-life effects we so enjoy. 
Using a Green Screen for Your Project
Even though we often associate the use of a green screen with big-budget video productions, it is also very common in smaller projects.
At Ignite Studios, we help individuals on a regular basis get the results they desire with the help of our in-studio green screens and post-production experts.
If you want to step in front of the green screen and interact with a reality of your creation, we have the resources you need.
We are Utah's premier video and music production studio and are happy to help you with your next project. For more information, contact us today.