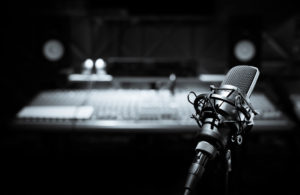 When it comes to professional recording audio and video, nothing beats the sound quality you get in a studio. In audio and film production studios like Ignite Studios, everything is set up to provide you with the best audio quality. Each room has been expertly sound-proofed to ensure no unintended background noise is picked up. The edit-bays are also soundproof, allowing technicians to edit without any interference. Professional studios offer a much larger space as well, giving you the freedom to record without restricting the number of people required. 
One of the most important factors of recording in a studio is having the freedom to collaborate with others. It allows you to vibe with the people that you're recording with and get a synergy going with the people you're working with. You're able to workshop things together and figure out what is and what isn't working. 
Highly experienced and knowledgeable studio techs are also available to help you figure out what changes need to be made to make your takes sound and look better. They can provide you with valuable expertise that will help you learn, grow, and become even better at recording. And they can handle everything 
Recording and filming can be stressful for even the most seasoned professional. Since the technical side of the recording process will be handled by a professional studio tech, you have the freedom to let go and focus on your own creativity. 
Another perk to recording in the studio is that you have access to all the tools you need to get the best recording possible. Professional studios like Ignite offer top of the line recording equipment to help make your audio the best quality it can be.
Making the Most of Recording from Home
Thanks to the current COVID-19 pandemic, many people are trying to make-do with recording audio from home. Getting everything just right to ensure you have the best sound quality can be difficult if you don't have access to everything you need. 
Pros of recording at home include:
Accessibility – If you have access to a computer and an audio interface, you're able to record at home. 
Low Cost – If you don't have a lot of money to spare for expensive recording software, no worries! There are plenty of great free recording programs that you can download. When recording at home you also don't need to shell out money to rent out a recording space.
No Time Pressures – When you are recording at home, there are no time constraints. You're free to take as much time as you want to record and master things. 
You're in Control – When recording at home, you're the boss of the entire recording process. You call the shots with how you want things to sound, when you record, and post-production. If you have a difficult time getting motivated or get overwhelmed, this could be seen as a con. 
Freedom to Experiment While Recording – When you're in a place where you feel most comfortable, it's easy to let go and step out of your comfort zone. You're free to experiment while recording without having to worry about strangers judging you. You also have the freedom to try things out that may not even work without having to pay for time at the studio. 
Learn How the Recording Process Works – Knowing how recording works can be a real advantage the next time you use a studio to record. It's important to trust the technicians and let them work for you, but you'll be able to understand their process better. 
You Can Record with Anyone at Any Time – There's no need to try and schedule studio time with multiple people when you're recording at home. Collaborators are able to send you their audio files at any time. 
Cons of recording at home include:
Lack of Expertise – One of the biggest cons of recording at home is that you don't have the expertise or knowledge of a studio's technicians to fall back on. There are risks involved if any issues arise that you're unable to troubleshoot on your own. 
A Lot of Work – Recording and getting the audio to sound good is not easy. There is a lot of work and technique that goes into recording, mixing, and mastering. 
Lack of Equipment – When you're a DIYer, especially if you're on a budget, you will have a limited set of equipment at your disposal. This can really limit what you are able to create and accomplish while recording. 
Not Soundproof – Unfortunately homes aren't soundproof, so you'll need to consider that when attempting to record.
Limited Space to Record or Film – When you're recording at home, you're limited to where you can record or film. 
Book a Recording Session at Ignite Studios
Are you ready to start recording? Contact Ignite Studios today to schedule your session. Our Salt Lake City-based production studio can't wait to help you achieve your desired results and can work with your budget. Call us today at (801) 999-8249 or shoot us an email at Info@IgniteStudios.com to find out more!
Professional Studio Recording vs. Home Recording